Description

Epson Surecolor F160 Dye Sublimation A4 Desktop Printer [110.SCF1601Y]

Product Features:
Superior Quality
Superior Reliability
Superior Flexibility
PrecisionCore Micro TFP with VSDT
High Productivity
Low Running Costs
Fast Production
2.4in tilting colour display with button control
Interface:USB 2.0, 100 base-T, Wif
150 sheet tray capacity
The Epson SureColor DS series was developed from the ground up to provide a superior solution for Dye Sublimation. Printers offer enhanced image quality with a lower running cost, all backed with a comprehensive factory warranty. The SC-F160 is a compact desktop model designed for low volume custom merchandise and décor production. It is particularly suited to photo imaging and merchandise work. It features an extremely compact design with simple operation and a convenient Continuous Ink Supply System (CISS). Prints are made on paper which can be transferred (sublimated) via a heat press onto material with a polyester base or polyester pre-treatment. Supplied as a package complete with ink and media, it can be driven by common graphic design and photo editing software.

The SureColor F160 uses inexpensive ink and A4 sheet-based media. Ink ships in bottles and is loaded into a small tank system while paper is loaded via a tray. It features the latest Epson print head and image processing technology that work together with the ink to enable high quality imaging with fine gradation and a wide gamut. It is easy to operate and prints quickly. Output can be sublimated onto polyester fabric and substrates that will accept a polyester coating and have moderate heat tolerance. The printer can be used with a variety of low-cost 3rd party heat presses.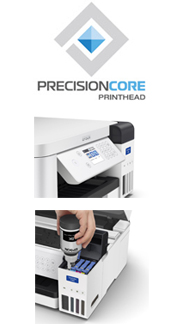 FEATURES AT A GLANCE
High Quality

 

– Epson PrecisionCore™ print head and UltraChrome™ Dye Sub ink for quality imaging at resolutions up to 600 x 1200dpi. Epson Precision Dot Technology enable prints with fine gradation, an expanded gamut, and low grain.

Simple to Operate

 

– Tilt adjustable control panel with colour LCD and push-button operation, supplied with a driver that enables operation with common graphic and photo editing software.

Easy to Install

 

– Extremely compact and desktop mountable; ships with over 1L of ink, and 300 pages of media; flexible operation using Wi-Fi/Ethernet/USB networking.

High Productivity

 

– Incorporates a convenient tank system and a tray that holds up to 150 sheets, produces an A4 print in as little as 65s.

Low Running Costs

 

– Ultra-low power consumption and is refilled using cost-effective bottled ink.
Superior Reliability

 

– Supplied with a comprehensive single-source manufacturer warranty augmented with optional CoverPlus for up to 3 years' protection.

 

1

OUTSTANDING QUALITY
The SureColor F160 incorporates an Epson PrecisionCore™ Thin Film print head with micro-fine nozzles that enable high-resolution imaging with pinpoint accuracy. Driven by Epson Precision Dot Technology, it facilities precise and predictable colour with superior density, and enhanced tonal expression. The printer has a range of print modes to suit different quality levels and production speeds. It suits a wide range of applications including art and photography, hard and soft signage, short-run merchandise and décor, custom fabric and clothing.

The SC-F160 uses a simple 4 colour imaging system. The advanced UltraChrome™ Dye Sub ink works in conjunction with the print head to produce superior output with a lower production cost and enhanced mechanical reliability. When sublimated, it produces a colour gamut that is equal or better than competing solutions that utilise more inks. It produces images with outstanding light and wash fastness, that are resistant to damage through abrasion and perspiration. When applied to polyester fabrics, material conforms to the latest Oeko-Tex Eco Passport® standard for safe use by adults, children and babies.2 3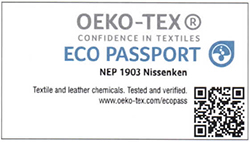 FLEXIBLE WORKFLOW
Dye sublimation is designed to replace traditional screen printing. It is considerably simpler and less expensive for short-to-medium production runs with less labour, less materials, and less wastage. Digital imaging enables easier content creation and editing with more accurate and flexible output. Production is mess-free with faster job turnaround and repetion at the push of a button. The process suits fabric with a high polyester content and hard surface materials that will accept a polyester spray while withstanding a moderate level of heat and pressure. A wide range of products can be produced including fabric and photo merchandise, metal signs and phone covers, footwear ('thongs') and custom clothing, wall decorations and home décor.

The Epson DS Fabric series has been designed for reliable and cost-effective operation. The SC-F160 features a Continuous Ink Supply System (CISS) that is refilled using inexpensive 140ml bottles. The engine features extremely low power consumption with sleep and standby modes to further reduce running costs. The printer ships complete with ink and media. It also ships with a driver that enables operation with standard graphic software.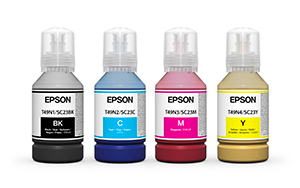 The SureColor F160 can be used with a PC running Windows or Mac OS. It is extremely compact, light in weight and has a footprint of less than 0.15m2 and supports both wired and wireless networking. It suits operation with a small flat-sheet or merchandise style heat press and features a convenient multi-page input tray as well as an extendable output tray.1

2Dye Sub ink is relatively delicate prior to sublimation and needs to be handled with care. Please see the specs page for further information.
3ECO PASSPORT by OEKO ® is an international standard for the textile industry system. It enables suppliers to demonstrate that products can be used in sustainable and safe textile production. For further information please see the OEKO-TEX web site.
PRINT TECHNOLOGY
Print Head
PrecisionCore ꙠTFP with VSDT
Nozzle Configuration
400 Black + 128 x CYM
Max Resolution
600 x 1200dpi
Min Drop Size
3.8pl
INK SYSTEM
 
Family
Epson UltraChrome®

 

Dye Sublimation
Type
Dye Sublimation
Colours
CYMK
Supply
120ml Black + 60ml x CYM CISS Tank System
Refills

140ml Bottles

PERFORMANCE
Production
65s
Quality
152s
Figures represent print times for the indicated test image produced in A4 on Epson General Purpose DS Paper. The total throughput time for a particular job will depend on a number of factors including the PC specification, software selection, workflow, networking, file format / size, image size and print mode. Additional time will be required for sublimation.
MEDIA SUPPORT
 
Media Type
A4 Epson General Purpose Dye Sub Paper
Minimum Margins
3mm top, bottom, left & right
Loading
150 page tray
OPERATION
 
Control Panel
Tilt-adjustable with button control, 2.4" colour LCD display and integrated help
Interface
USB 2.0 & Ethernet 10Base-T/100Base-TX & Wi-Fi
Memory
132kb
Included Software
Windows
Installer Package, Printer Driver, EpsonNet Setup, EpsonNet Print, EpsonNet Config, Firmware Updater, Software Updater, User Manual and Epson Device Admin on CD &/or via

 

Web download

Mac
Installer Package, Printer Driver, EpsonNet Setup, EpsonNet Config, Firmware Updater, Software Updater and User Manual via

 

(Web download)
System Requirements
Windows XP/7/8/10 (32/64bit) or Mac OS X 10.6.8 or later
ENVIRONMENTAL
 
Physical (WxDxH)
375 x 347 x 187mm, 4.6kg (no ink or media)
Power Supply
AC 220~240V, 50/60Hz, 0.2A
Operational Temp
10°~35°C (15°~25°C recommended)
Operational Humidity
20 to 80% with no condensation (40-60% recommended)
Power Consumption
13W Operating, 4.1W Ready, 0.7W Sleep
Operating Noise
53dB
Operational Space
(WxHxD)
375 x 503 x 187mm (recommended)
Note: Additional space will be required for a heat press.
SHIPPING INFO
 
Packaging (WxDxH)
Printer: 515 x 435 x 278mm, 7.2Kg
Ink & Media Pack: 450 x 250 x 250mm, 5Kg
What's in the Box
Printer, 2 x Ink Bottle Set, 2 x Maintenance Tank, 3 x A4 Media Pack, Power Cord, Setup Guide, Software & User Manual CD.
Installation & Operation
A heat press will be required to enable production; details on models, features and pricing can be provided by your Epson Authorised Large Format Fabric Dealer.

A proportion of the ink and one of the maintenance tanks included with this printer will be used to 'prime' the machine during initial set-up.

Delivery, de-boxing and package removal is not typically included but can be provided at an additional charge for most locations. Reliable operation requires the printer be used on a regular basis and not left powered down for extended periods. The printer is not designed for mobile operation and may suffer leakage if shaken excessively. Dye sub ink is extremely stable once sublimated however care must be taken prior; unopened bottles should be stored in a cool environment away from sunlight and installed by the best before date printed on the package, ink should be consumed within one month of loading into tanks, opened bottles should be consumed within 6 months, and prints should be sublimated within a week of creation (1~2 days recommended).

This printer is designed to operate with specific consumables and be used for ad-hoc / low volume work. It does not suit applications which require continuous &/or high volume production. Please refer to the

 

warranty section

 

for details on operational and mechanical life rating limitations.
CONFIGURATION OPTIONS*
SCF1601YR
Standard Model with 1Yr Warranty
SCF1603YR
Standard Model with 1Yr Warranty & 2Yr CoverPlus (3 yrs total cover)
ACCESSORIES & OPTIONS*
1YWF160
1Yr CoverPlus On-Site Service Pack