Description

Photo Scanners
The A3 scanner for Professional graphic artists, designers and business users
Epson Expression 12000XL A3 Flatbed Document Colour Image Photo Scanner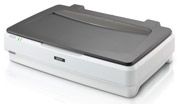 Expression®
12000XL
Scan up to A3 in size
2400 x 4800dpi optical resolution
High Precision Micro Step Drive technology
Advanced Matrix CCD Micro Lens Technology
Optional Transparency unit for film scanning
Powerful bundled software
Unique AutoFocus optics

$6999 RRP inc GST
The Expression 12000XL is a high-resolution A3 scanner designed to meet the most demanding graphic arts applications.

Featuring Epson Scan advanced imaging features, an LED light source, and exceptional SilverFast Ai 8.8 image processing functions, this scanner offers excellent image reproduction.
Sharp and accurate image reproduction
Thanks to the Expression 12000XL's top-of-the-range scanning technology, users can achieve extremely high-quality image reproduction up to A3 format.
Easy-to-use, Epson Scan operates in either automatic or professional modes, allowing users to optimise their scanning results.
The Expression 12000XL's optical density of 3.8 DMax and 48-bit colour depth ensure sharp and accurate scanning for full reproduction of the widest range of colours, even in shadow areas. In addition, the high 2400 x 4800dpi resolution and ultra-precise Micro Step Drive technology, enable users to capture even the tiniest details with exceptional clarity.
A comprehensive package of bundled software and imaging technology ensures the Expression 12000XL can perform a wide range of functions easily and efficiently. Epson Scan comes with useful features for removing dust noise and grain reduction to smooth the appearance of images. SilverFast Ai 8.8's image processing functions help get even closer to perfect image reproduction.
The optional transparency unit enables users to scan from transparency media, such as positive or negative film and slides, with professional results.
KEY FEATURES

Batch scan large quantities of transparencies with brilliant results

By utilising the optional Transparency Unit, the Epson Expression 12000XL can scan up to 48 frames of 35mm film, thirty 35mm slides, eight frames of 4" x 5" film, or six medium-format transparencies all with one easy setup.

Two lamp design

- A bright white lamp is used for positive transparency scanning, while a blue light source is used for negative transparencies, cutting down on the processing time and improving the negative to positive conversion in the final image.

Unique AutoFocus optics

Epson's optics system ensures pinpoint focusing on an original up to 6mm above the scanner glass and is useful for scanning 3D items and transparencies.

Fast scans

Scan an 8.5" x 11" colour image at 300 dpi in as little as 23 seconds. A 35mm slide can be scanned at 2400 dpi in 51 seconds, and a 4" x 5" colour transparency can be scanned in under three minutes.

High Optical Density

Featuring an optical density of 3.8Dmax, the Epson Expression 12000XL captures a wide range of tonal colours ensuring the greatest level of detail in both highlight and shadow areas.

Powerful Software Included

The bundled LaserSoft Imaging Silverfast Ai and IT8 chart to calibrate colours and ensure consistency from the original to the scanned image. Restore faded colour photos to original brilliance with Easy Photo Fix scanning technology. Additionally with Advances Digital Dust correction you can remove the appearance of dust from film and photo's.
SCANNER TYPE
Flatbed A3 colour image scanner
PRODUCT NAME
Expression 12000XL
 

PRODUCT CODE
B11B240501


SUB-SCANNING METHOD
Movement of the carriage


Photo ELECTRIC DEVICE
6 line alternated colour CCD (94,500 pixels)


DOCUMENT SIZE
SCANNING PLATEN
310 x 437mm
TRANSPARENCY UNIT
309 x 420mm
LIGHT SOURCE
Readyscan LED Technology
OPTICAL RESOLUTION


Main: 2,400dpi (optical resolution by 6 line CCD with 87,840 pixels) Sub: 4,800dpi with Micro Step
OPTICAL DENSITY
3.8 D Max
 
OUTPUT RESOLUTION
 

50dpi to 12,800dpi (in 1 dpi steps)
ZOOM
50% to 200% (in 1% steps)
PIXEL DEPTH
48 bit internal
24 bit external
SCANNING SPEED
Monochrome : 12 s/page Colour : 12 s/page (Measured with size A4, resolution: 300dpi)
SUPPORTED PLATFORMS
USB2.0 (Type B)
Mac OS 10.10.x, Mac OS 10.11, Mac OS 10.7.x, Mac OS 10.8.x, Mac OS 10.9.x, Windows 11, Windows 10, Windows 7, Windows 7 x64, Windows 8 (32/64 bit), Windows Server 2003 (32/64bit), Windows Server 2008 (32/64bit), Windows Server 2008 R2, Windows Server 2012 (64bit), Windows Server 2012 R2, Windows Vista, Windows Vista x64, Windows XP, Windows server 2003 R2
INTERFACES


USB 2.0 High-Speed (standard)
ENVIRONMENTAL CONDITIONS
TEMPERATURE
5°C to 35°C (operating)
-25°C to 60°C (storage)
HUMIDITY
10% to 80% without condensation (operating)
10% to 85% without condensation (storage)
ELECTRICAL SPECIFICATIONS
RATED VOLTAGE


AC100-120V






BUNDLED SOFTWARE
Epson Scan 2, SilverFast Ai ver.8.8
A3 TRANSPARENCY UNIT
RELIABILITY:
100,000 cycles for the MCBF
DOCUMENT:
35mm strip film
35mm slide
Medium format (120 / 220)
6 x 18cm strip film
4 x 5 inch film
Films up to 12.2 x 16.5 inch
READABLE AREA:
309 x 420mm
DIMENSIONS:
Width: 656mm
Depth: 458mm
Height: 158mm
Weight: Approx. 14.3kg
Product Options
PRODUCT CODE
DESCRIPTION
B12B819221
A3 Transparency Unit
A3 TRANSPARENCY UNIT
RELIABILITY
100,000 cycles for the MCBF
DOCUMENT
35mm strip film


35mm slide


Medium format (120/220) 6 x 18cm stip film


4 x 5 inch film


Films up to 12.2. x 16.5 inch
WARRANTY
12 MONTHS RETURN TO BASE
OPTIONAL ADDITIONAL 2 YEAR WARRANTY 3YWE12000XL