Description

Faster Production
Better Quality
Lower Cost
Description:

This Printer is virtually new and in perfect condition. It is supplied boxed with a doc pack, stand, media bin, maintenance tanks, power cord and 12 months warranty.
It does not ship with ink.
 Up to 2 x 2-Year CoverPlus packs may be ordered separately for this printer for 5-Years max total cover inc. warranty – please contact us for details.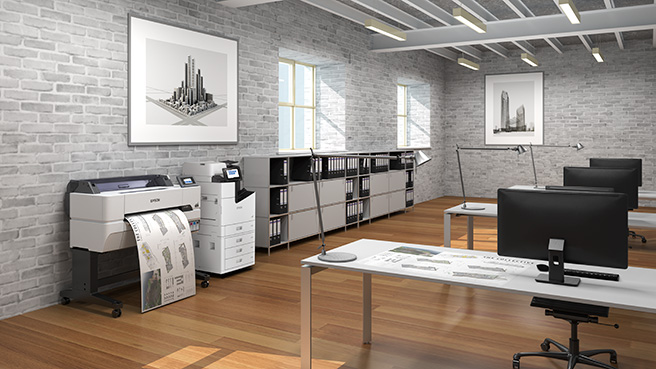 If you produce poster artwork or commercial POS, then the Epson SureColor Production range is for you. It provides a high speed, cost effective and flexible solution for printing high quality colour and premium black-and-white images in a wide format. It produces durable, ultra-high resolution output with a platform that has proven dependability and is easy to maintain.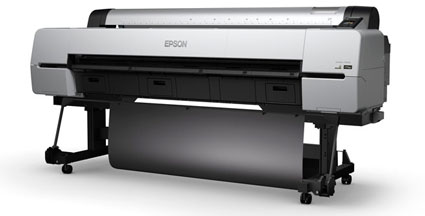 The SureColor Production 20070 is a 64" (1,626mm) Large Format Printer that is designed for medium-high volume graphic, indoor POS and poster printing. It supports a wide range of roll and sheet based media and features an all new PrecisionCore MicroTFP print head with Variable Sized Droplet Technology™ for output with superior resolution, gradations and colour density. It uses Epson UltraChrome® Pro all-pigment aqueous ink for quality colour and premium B&W output that is consistent, predictable and durable. The SC-P 20070 Cartridges feature an extra-large capacity for extended operation with a low cost per print due to the new PrecisionCore printhead and reduced running costs. The printer ships with an output bin for cut sheets as well as an optional Auto-Take-Up system for continuous roll to roll production.
Superior Print Quality

 

– Epson 2400x1200dpi PrecisionCore Micro TFP print head with VSDT for consistent and predictable output in ultra-high resolution with superior half tones and an optimised ink density.

Superior Colour

 

– 10 cartridge Epson UltraChrome Pro ink enables print with a high dMax and a wide colour gamut.

Superior B&W

 

– produces gallery quality black-and-white images with dedicated Photo & Matte Black ink lines for output on different media types.

Good Image Stability

 

– prints dry quickly to become water and scratch resistant. Output can be stored for extended periods with excellent lightfastness*.

Flexible Operation

 

– supports a wide range of media with fast print speeds. Handles roll based stock up to 64" (1,626mm) wide and sheets up to Super B0 and above (including A0). Supports board stocks up to 1.5mm thick, can print edge-to-edge and full borderless supported by the new media feeding system. Ships with retractable output basket.

Easy to Use

 

– 2.7" Colour LCD control panel with integrated help as well as high visibility individual ink indicator lights. Spindle based roll media loading with adjustable tension, auto media management system and a heavy duty auto cutter.

Reduced Production Costs

 

– flexible interfacing, operates with reduced power consumption and accepts large, cost-effective cartridges up to 700ml. Requires minimum maintenance and is supplied in various configurations with an optional Postscript, Auto Take-Up system, and user selectable warranty / support packages. Compatible with a wide range of design, production, workflow management and

 

RIP software.
Supreme Imaging
The SureColor Production series features Epson's patented PrecisionCore Micro TFP head technology with a 2400x1200dpi resolution. Unlike competing mechanisms that are based on heat, the Epson print head uses an electro-mechanical movement that is kinder to the ink chemistry, for better imaging with more stable output. While consuming less power and less ink, it is also more accurate, flexible and durable. Micro-fine drop-on-demand nozzles enable precise dot shaping, placement and volume/density control for more consistent results with less wastage. Variable-size Droplet Technology (VSDT) enables superior half-tones and optimised colour density with minimum ink consumption. Ten active channels are driven by an advanced LUT (Look-Up-Table) and a 10 cartridge ink supply system to provide an enhanced colour range. Dedicated Matte / Photo Black ink lines ensures the maximum possible dynamic range is achieved on a wide variety of media types and there is no extra ink wastage. Self-monitoring, alignment and cleaning systems ensure predictable, consistent and reliable output with minimal user maintenance.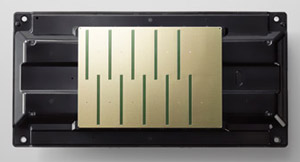 10 channel PrecisionCore Micro TFP print head
When Epson launched UltraChrome K3 it established a new standard for aqueous (water based) ink technology. Epson has created a new ink for the SureColor Production series, the UltraChrome Pro ink set which adds an extra black(grey) ink to give this printer 5 blacks and 5 colours which increases the colour gamut even wider than its predecessor. Using an all-pigment formulation, it produces prints that dry quickly to become water and scratch resistant with a high Dmax. Colour is stable in just 30 minutes and can remain lightfast for approx 60 years*.

The SureColor Production range is colorimetric calibrated during assembly to ensure that colour proofs/images from different printers of the same model remain totally consistent. The ink features a colour constancy level of less than DeltaE 1.0 so that prints remain visually consistent when viewed under different lights and lighting conditions.
Flexible and Easy to Operate
The SureColor P20070 is a floor-standing printer with a 64" (1,626mm) wide carriage and improved flexible media handling. It supports basic bond paper, photo paper, transparent film, translucent back-lit and specialist synthetic media. It accepts roll media via a spindle mounting with integrated tension adjustment and has a high-speed auto-cutter which will cut most stocks. The printer ships with one spindle that supports rolls with either 2" or 3" cores. Additional spindles can be ordered separately for environments that involve high volume work with multiple media types. An integrated barcoding system helps track individual roll consumption while also enabling rapid exchange with automatic re-configuration for different media types. The printer supports sheet media and has a straight through paper path for solid board. It comes with a retractable output basket as well as an optional Auto Take-Up system for roll-to-roll printing and off-line / automated post-production. The ATU supports forward and reverse winding to enable de-curling. The printer supports edge-to-edge printing on sheet and roll media and will print full borderless on roll stocks.

The new SureColor Production series has an advanced new Media Feeding System to ensure superior print quality, consistency and linearity at the highest production speeds. New compass tracks+ the media as it passes through the printer, taking snapshots of the back surface and adjusting the feed roller to ensure smooth & accurate movement. New inductive rollers work to ensure consistent tension and parallelism with a reduced tendency for velocity changes and skewing which can otherwise affect the output quality.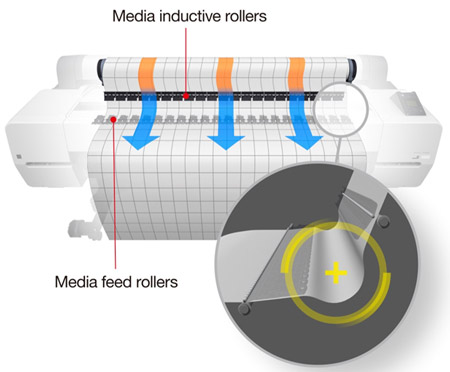 The SureColor Production range has been designed for professional and commercial applications. All models feature fast and flexible networking facilities. They have LCD screens with an easy to follow menu system and in-built help. The printer can be configured remotely and has driver software available to suit most operating systems. Ink cartridges are pressurised to ensure maximum output precision and feature an enhanced capacity for extended operation and a reduced cost per print. The printer confirms Epson's corporate directive for cost effective and durable operation with minimum environmental impact. It consumes Less Power and Less Ink is used to produce Superior Quality Print. Its large 700ml ink cartridges are also cheaper to purchase. Printers purchased in Australia & New Zealand are backed with a comprehensive service and support program with flexible 'heads-'n all' cover that can be extended out to a total of FIVE YEARS. **
SIZE
Max Print Width
64 inch (1,626mm) wide
Max Sheet Size
Super B0
PRINT TECHNOLOGY
Print Head
PrecisionCore™ Micro TFP head
Print Modes
Uni & Bi-directional
Print Technology
VSDT, auto head alignment, auto/manual nozzle checking, auto cleaning, ink repelling coating
Nozzle Configuration
800 per colour
Channels
10
Max Resolution
2400 x 1200dpi
Min Droplet Size
3.5pl
INK SYSTEM
Family
Epson Ultrachrome® Pro
Type
Aqueous all-pigment
Colours
10
Cartridge Size
700ml
PERFORMANCE (A1 sheet)
Draft
300 x 300dpi
0.4 minutes
Normal
300 x 600dpi
1 minute
Fine*
600 x 600dpi
1.9 minutes
Super Fine*
1200 x 1200dpi
3 minutes
Figures represent print times on Plain and Premium Photo(*) paper. Print speeds are engine only with total throughput time dependant on workflow configuration, paper type, software, file format / size, print resolution, ink coverage, networking, and other factors.
MEDIA SUPPORT
Format
Roll and cut sheet
Size
Roll: Width 254 (min) to 1626mm (max) Length 279 to 15,000mm, Diameter 170mm (max) Max weight 24kg Cut sheets: Width 210 (min) to 1118mm (max) Length 279 (min) to 1580mm (max)
Thickness
0.08-0.5mm roll / 0.08-1.5mm sheet
Min Margins
0mm top, left, right & bottom roll / 3mm top, 0mm left & right, 14mm bottom sheet
Loading
Top manual sheet and top roll (spindle style with dual tension settings)
Handling
Heavy-duty rotary auto-cutter & Media Barcode System
Manual Double Sided Printing
Please refer to user guide, and contact Epson or your authorised dealer before selecting any media for this purpose in order to check suitability.
Output
Front manual paper basket (able to hold one Super B0 print with a maximum length of approx. 1,580mm) and optional Auto Take-Up unit
OPERATION
Control Panel
2.7" Colour LCD
Interface
High Speed USB 2.0
Ethernet 100Base-TX / 1000Base-T
Included Software
Printer Driver, Epson Manual, Epson LFP Remote Panel 2, EpsonNet Config, Epson Software Updater, Epson Network Utilities
OS Compatibility
Mac OS X10.6.8 or later, Windows XP/Vista/7/8/8.1 (32/64bit) or later
Software Compatibility
Compatible with a wide range of design, production, workflow management and

 

RIP software
Memory
1.5GB
Language
ESC/P Raster
ENVIRONMENTAL
Operational Temp
10° to 35° C (15-25° C recommended)
Operational Humidity
20 to 80% with no condensation (40-60% recommended)
Power Supply
100 - 240 V, 50 Hz - 60 Hz AC, 5A
Power Consumption
95W Operating / 2.8W Sleep (1000 Base-T)
Operating Noise
51.1dB
PHYSICAL
 
Printer (no ink)
2415 x 976 x 1168mm (WxDxH), 171Kg
Recommended Operational Space
2.6 x 1.6 x 1.3m (WxDxH)
Packaging
Printer, Stand & Starter Ink: 2.71 x 0.99 x 1.07m, 300Kg
(Important: Box must be shipped straight & level)
WHAT'S IN THE BOX
Printer, Stand, Power Cord, Set of 110ml Inks (note 30-60% may be used during initialisation), 1 x Spindle, 3 x Maintenance Tank, Output basket, Installation / Safety manual, Utility software & User manual (CD)
CONFIGURATION OPTIONS
C11CE20401
Printer with 1 Year On-Site Warranty**
SCP200703Y
Printer with 2 Year CoverPlus On-Site Service Pack (total 3 yrs cover)**
SCP200705Y
Printer with 2 x 2 Year CoverPlus On-Site Service Packs (total 5 yrs cover)**
SCP20070P1Y
Printer + Postscript, 1 Yr On-Site Warranty**
SCP20070P3Y
Printer + Postscript, with 2 Yr CoverPlus On-Site Service Pack (total 3 yrs cover)**
SCP20070P5Y
Printer + Postscript, with 2 x 2 Yr CoverPlus On-Site Service Packs (total 5 yrs cover)**
SCP20070PA1Y
Printer + Postscript + ATU, 1 Yr On-site Warranty**
SCP20070PA3Y
Printer + Postscript + ATU, with 2 Yr CoverPlus On-Site Service Pack (total 3 yrs cover)**
SCP20070PA5Y
Printer + Postscript + ATU, with 2 x 2 Yr CoverPlus On-Site Service Packs (total 5 yrs cover)**
ACCESSORIES & OPTIONS
C12C932201
Auto Take-up Unit
C12C890121
Optional Roll Paper Belt
C12C932231
Additional Roll Adaptor
C13S210040
Replacement Auto Cutter Blade
C13T619300
Replacement Maintenance Tank
C13S090013
Cleaning Stick
C12C848031
HDD 320GB
1YWSCP20070
Additional 1Yr CoverPlus Onsite Service Pack (P20070)**
2YWSCP20070
Additional 2Yr CoverPlus Onsite Service Pack (P20070)**