Description
BRAND NEW UNOPENED VACUUM SEALED GENUINE EPSON T512 INKS FOR ECOTANK PRINTERS. 
Compatible with the following Epson printer models: ET-7700 | ET-7750 (May also suit other models, please refer to your printer manual for compatibility.)
Ultra-high-capacity ink bottles - Delivers enough ink to print thousands of pages.
Uniquely keyed EcoFit ink bottles - Makes it easy to fill the colour tanks without spilling or accidentally filling the wrong tank.
Genuine Epson ink - Offers reliable performance for brilliant results.
From the Manufacturer:
Epson's EcoTank replacement ink bottles offer thousands of vivid pages while delivering genuine Epson quality. When it comes time to buy more ink, you save up to 80 percent with low-cost replacement ink bottles.
Plus, these ink bottles feature exclusive auto stop technology, with each colour uniquely keyed for easy filling of each tank.
Ideal for everyday printing, these ultra high-capacity inks mean you can go longer before replacing them for an unbeatable combination of value and convenience
Specifications
Ink Capacity: 

 

C,M,Y, BK are 70ml each, + BK 140ml

Compatible with: ET-7700 | ET-7750 Epson Printer Models (May also suit other models, please refer to your printer manual for compatibility.)
What you will receive
5 Pack of Genuine Epson Inks Containing:
1 x Black 
T512
 Ink (140ml)
1 x 
Cyan 
T512
 Ink 
(70ml)
1 x 
Magenta 
T512
Ink 
(70ml)
1 x 
Yellow 
T512
Ink 
(70ml)
1 x 
Black 
T512
 Ink 
(70ml)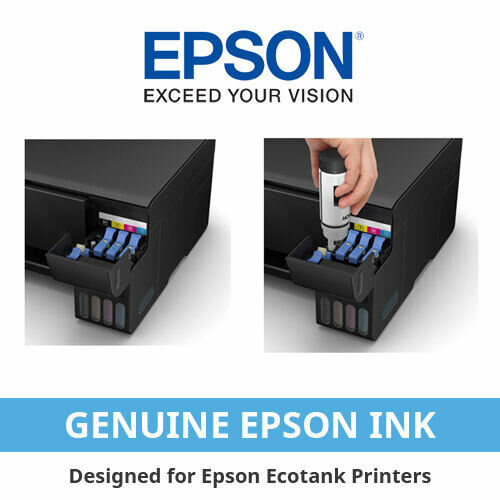 OEM Code:
1 x C13T00G192
1 x C13T00H192
1 x C13T00H292
1 x C13T00H392
1 x C13T00H492

Brand: Epson
Duty Cycle:
Includes Of:
1 x Genuine Epson T512 Black Ink Bottle

1 x Genuine Epson T512 Photo Black Ink Bottle

1 x Genuine Epson T512 Cyan Ink Bottle

1 x Genuine Epson T512 Magenta Ink Bottle

1 x Genuine Epson T512 Yellow Ink Bottle


5 Pack Epson T512 Ink Bottle Set (1BK,1PBK,1C,1M,1Y) can be used for:
Epson Expression Premium ET-7700
Epson Expression Premium ET-7750